FALL ALL-HANDS Meet-up + Workday Sep 10
September Meet-up + Workday will be in the Garden this month. All Gardeners are welcome to attend!
If anyone would like to contribute to a Breakfast Potluck, look out for the Sign-Up Email and get ready to bring a dish to share.
Gardeners must now have completed online entry of all their service hours for the 2021-2022 Gardening Year
Invitations to renew for the 2022-2023 will be announced shortly …  Agreement year runs Oct 1st  – Sept 30
CONGRATUALTIONS AND THANKS
OMG! We ended up logging over 1,860 hours of garden love, this gardening year
Our garden is looking so beautiful as a result of all our combined hard work. We are a great team when we garden together. Thank you to everyone!
COMMUNITY GARDEN EVENTS
Sat Sept 10 | Fall All Hands Meeting + Workday 10am – 12pm
Sun Sept 25 | Sunnyvale Garden Share – 11am – 12pm
Fri Sept 2, 9, 16, 23, 30 | Open Garden – 11am – 1pm
To-Do List
√  Attend Fall All-Hands Workday on Saturday September 10th
√  Start planning your Fall/Winter garden. Check planting chart for which seeds to start now
√  Continue removing your finishing summer crops.
√  Add compostable organic material to the compost processing area. Add weeds + diseased organic material to the green 'Yard Trimmings' bins
√  Thank you for completing your service hours in the Log! Any hours logged from Sep 1st will count toward the new 2022-2023 gardening year
September 2022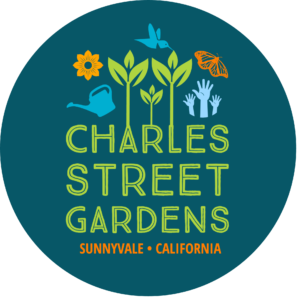 General Task List
Rake leaves from pathways and pile neatly in the compost area
Flip compost bins check dates, flip bins with dates more than 3 days old
Weeding in ANY community bed or area. Refer to our website weed ID list if you are unsure.
Empty Trash Bins into the blue dumpster in the parking lot
Pick up trash or recycling in the garden and dispose of correctly
JOIN A GARDEN TEAM to work at independent tasks throughout the month that match your interests!
Service Hours Log
Log service hours after completing a Community Garden Task
Check how many hours you have logged so far
Click here to view hours logged
As a CSG Member you must fulfill and log 15 x service hours by August 31st each year, per your Gardener's Agreement. It's very easy to achieve and helps keep our lovely community garden maintained and looking good.
Attend our Second Saturday or Last Thursday workdays where there are plenty of community jobs allocated on those days.
Check with your Row Leader what needs doing near your Row OR there is a monthly Task List posted here and on the garden kiosk noticeboard near the main gate. So if you need to contribute service hours outside of workdays, you can easily log an hour or two each month.
Happy gardening!
Workdays + Meeting Schedule
2021
TIME
EVENT
DETAILS

SEP 09

10am – 12pm

Second Saturday

FALL ALL HANDS WORKDAY

2pm – 3pm

Online Meeting

Annual Garden Meeting 2021-2022

OCT 09

10am – 12pm

Second Saturday

Cherry, Fig, Hi-Rise

NOV 13

10am – 12pm

Second Saturday

Lemon, Mulberry 

DEC 11

10am – 12pm

Second Saturday

Group Garden, Orange, Plum 

2022
TIME
EVENT
DETAILS

JAN 08

10am – 12pm

Second Saturday

Apricot, Blackberry 

FEB 12

10am – 12pm

Second Saturday

Cherry, Fig, Hi-Rise 

MAR 12

10am – 12pm

Second Saturday

Lemon and Mulberry 

APR 09

10am – 12pm

Second Saturday

SPRING ALL HANDS WORKDAY + MEETING 

MAY 14

10am – 12pm

Second Saturday

Group Garden, Orange, Plum

MAY 26

5pm – 7pm

Last Thursday

CSG Members only

JUN 11

10am – 12pm

Second Saturday

Apricot, Blackberry 

JUN 30

5pm – 7pm

Last Thursday

CSG Members only

JUL 09

10am – 12pm

Second Saturday

Cherry, Fig, Hi-Rise

JUL 28

5pm – 7pm

Last Thursday

CSG Members only

AUG 13

10am – 12pm

Second Saturday

Lemon, Mulberry

AUG 26

5pm – 7pm

Last Thursday

CSG Members only

SEP 10

10am – 10:30am

In-Garden Meeting

All-Hands Meeting

Fall 2021-2022

10:30am – 11:30am

Second Saturday

All Hands Workday
Join a Garden Team
Click the link below to visit the Garden Teams Master List with schedule, projects and team members