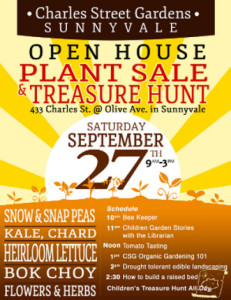 Saturday Sept 27th, 9:AM to 3:PM
Sunnyvale's Sustainable Community Garden
Free Pumpkin Treasure Hunt for kids and adults.
Noon Tomato Tasting w/ Pasta
Plants, Fall & Winter Vegetable Seedlings
Garden Talks 10am – 2:30 See schedule
Come see our chickens, bees and worms
Tour the UCCE Master Teaching Garden
All proceeds benefit Sunnyvale's non-profit Sustainable Community Garden project.
Hope To See you there!
433 Charles Street,
Sunnyvale, CA 94086
408-605-0890